After the ordinary cleaning process of this Yaesu FRG-9600 VHF-UHF receiver/scanner from 1985,
the only thing that had to be fixed to get it in full working condition was to change the volume knob.
The old one was made with a rubber-top. A common problem with this kind of knob is that it went "squashy" after some years and fell of. I found a new one with a solid plastic top on Ebay in Italy!!
The small trim piece above the display with the name of the model is gone and I havn´t been able to
find a new one. And this unit is missing the flip tilt bail.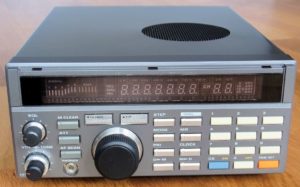 This receiver is an all mode scanner, originally made to receive two-way police, military, business, aeronautical and amateur communications. It has seven tuning rates (ranging from 100 Hz to 100 kHz) and a total of 100 memories organized in ten banks of ten. Frequencies can be directly entered via the numeric keypad or simply tuned via the manual VFO knob. The scanning system allows full or limited band scanning, as well as memory channel scanning with auto-resume. In addition to carrier sensing scan stop, audio scan stop is also selectable. This is to avoid stopping on inactive "carrier only" channels.
Specifications
Type:
VHF/UHF receiver/scanner
Frequency range:
60-905 MHz (0.1 / 1 / 5 / 10 / 25 kHz step)
Mode:
AM-N (2.4 kHz BW), AM-W (6 kHz BW), FM-N (15 kHz BW),
FM-N (180 kHz BW), SSB (2.4 kHz BW up to 460 MHz)
Receiver system:
Triple conversion superheterodyne (1st IF 45.754 MHz /
2nd IF 10.7 MHz / 3rd IF 455 kHz Murata CFW455E
Sensitivity:
AM-N 1uV (10 dB S+N/N), AM-W 1.5uV (10 dB S+N/N),
FM-N 0.5uV (12dB SINAD), FM-W 1uV (12 dB SINAD)
Voltage:
12-15 V
Current drain:
Max 550 mA
Impedance:
50 ohms, SO-239
Dimensions (W*H*D):
180*80*220 mm
Weight:
2.2 kg
Other features include: Clock-Timer, Recorder Activation, Tuning Meter, Squelch, Tone, Priority Channel Checking and Headphone jack. Other jacks include:  MPX, 8VDC output, CAT, Mute, Record out and External Speaker out.
References:
http://radioaficion.com/mods/yaesu-frg-9600-vhfuhf-receiver/
https://www.radiomuseum.org/r/yaesu_frg_9600.html
https://www.universal-radio.com/catalog/scanners/FRG9600.html
Now this receiver is sold (november 2016) to Italy, where from I got a new volume knob!!