This recevier really impressed me when connected to the EWE-antenna. The sensitivity and dynamic capabilities is astonishing, even if it´s produced a time ago betwen 1987 to 1996.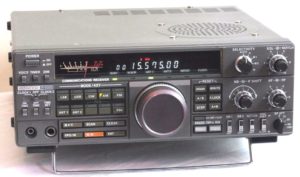 R-5000 Basic Specifications:
Superheterodyne: Double conversion (1st IF 58,112 MHz, 2nd IF 8.830 MHz)
Frequency Range: 0.1-30 MHz.
Operating Voltage: 120/220/240 VAC or 13.8 VDC via DC operation kit
Size: (W*H*D):  270 x 96 x 270 mm  / 10.6 x 3.8 x 10.6 inches
Weight: 5.6 kg  / 12.3 lbs
Modes of Operation: AM/USB/LSB/CW
Current Drain: 2 Amps Max
Selectivity: 6/2.4 / / kHz
Sensitivity:
AM <10-32 uV 0.1-1.8 MHz, <2 uV 1.8-30 MHz;
SSB/CW <1-4 uV 0.1-1.8 MHz, <0.25 uV 1.8-30 MHz
Impedance: 50/500 Ohms
Audio output: 8 Ohms
During the restoration there were just a few minor details that had to be attended. After cleaning the front and knobs it looks like new!
But there are a few scrathes on it, the most severe is on the upper right side of the front. It looks like something has been carelessly missplaced onto the receiver. There were also a broken inner ring on the knob for squelch/notch. But… the same evening I found a new one in Spain on Ebay!! Inside there were a layer of dust coming from the ventilation on top of the cover. It was blowned away by filtered air to prevent statics.
This model has the reputation of giving bounces on the keypad after some years. As I understand it due to oxidation of the switches. It has also been found that the display gives problem with the dots. Kenwood coated their PCB's with something to help to reduce microphonics in the receiver.
This coating, over time, absorbs moisture and becomes conductive. Once it becomes conductive enough, it disables the receiver, and the display shows all dots.
Non of these problems can be found on my receiver!! This might be due to the fact that the receiver always has been kept indoors in a flat in the dry nordic swedish climate. The only thing that puzzled me, was when I started up the receiver and one of the numbers in the display was diffuse. After reading the manual I could fix it, just by pressing the 'A=B' at the same time when pushing 'Power'. After that the backup battery had to be charged long enough to let the microprocessor in the receiver to work well.
This "Golden Egg" is going to be hard to let go. But I´ve got a vast collection of receivers now, so there´s no other solution than Ebay.
I think!? Or…
Now this receiver is sold (january 2017) to a fellow in my age from Östersund (ca 200 km west of Härnösand). He really longed for a good receiver that will take him back into the world of DX-ing again!
References:
https://www.fenu-radio.ch/Kenwood_R-5000-en.htm
http://www.mwcircle.org/mw_rec_r5000.htm
http://www.rigpix.com/kenwood/r5000.htm