This speaker matches the Trio 9R-59D receiver series, introduced 1966.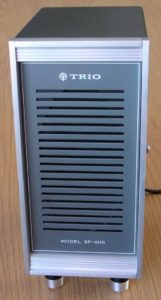 The dimensions (W*H*D) are 90*180*145 mm (3.54*7.08*5.7 inch) and it weights 1,05 Kg (2.27 lbs). There are two versions on the front feets, 34 and 14,5 mm (1.33 and 0.57 inch). The supporting feet at the back of the speaker can be mounted in two directions, 24 and 14,5 mm (0.94 and 0.57 inch). The impedance is 8 ohms and it can withstand 1.5 watts.
Now one of my two speakers has been sold (november 2017) to a radioamateur living in the Stockholm area. The other item has now (2020) been given to close friend (a DX-er from Delsbo, in the middle of Sweden).