When Drake made their DRAKE 4 line of receivers/transeivers, they also made a matching external speaker, the DRAKE MS-4. It was introduced 1965.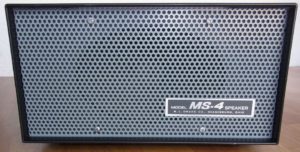 The dimensions (W*H*D) are 279*159*295 mm (11*6.25*11.6″) and it weights 2.72 Kg (6 lbs). It contains a 5*7 inch heavy magnet speaker located on the inside front of the cabinet, wich gave it a clear rich sound. The black, all metal cabinet features four feets with rubber stick on bumps attached. This speaker comes with an audio cable wired into the speaker which terminates to a male RCA phono plug. Drake also planned so that the there where space in the enclosure to house an optional DRAKE AC-3 or AC-4 power supply.
When I got this speaker there were a few scrathes on it, the most severe is on the upper right backside of the cabinet. Something heavy has bumped onto the speaker there. But the speaker was functional and sounded good. A new male RCA-connector was attached to the cable and new rubber bumps on the feets.
Now this speaker has been sold (november 2017) to a radioamateur living just 1,5 km from the place where my wife grew up outside Sala, some 47 km northwest from where I grew up in Enköping.
I got two  MS-4, and the second item had non of the issues like the first one.  And now (mars 2019) the second item is sold to a fellow in the Stockholm area. He was happy to complete his Drake line 4 with this speaker.
References:
https://www.radiomuseum.org/r/drake_ms_4ms.html
http://www.rigpix.com/accessories/drake_ms4.htm